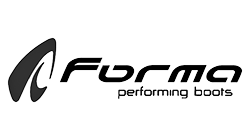 The Forma brand was born in 1999 in Italy and since then has always shown important growth trends. Thanks to its own R&D and the continuous technical development, Forma has been able to offer the market a complete product range. Only the highest quality standards have guaranteed Forma to become a global brand amongst the most recognized in the world.
Forma boots are distributed in 70 countries worldwide and the entire collection is developed in Italy and produced exclusively in the European Community. The Forma brand is now recognized as one of the most innovative brands in the motorcycle boot business.
All of the Forma Boots range is CE approved EN 13634:2015 by the main Italian Testing and Research centre Ricotest. 6 month warranty against manufacturing defects.
Forma riding boots are eligible for free shipping across India.