TVS Racing performance gear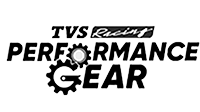 TVS Motor Company is the third largest 2-wheeler company in India with a revenue of over ₹18,217 crore (over US$2.9 billion). It has an annual sale of more than 3 million units and an annual capacity of over 4.95 million vehicles. TVS Motor is also the 2nd largest exporter in India with exports to over 60 Countries.
TVS Motors has launched TVS Racing Performance Gear to suit needs of enthusiast riders across the country. Best quality products with budget friendly prices. Explore the range of : TVS riding jacket, TVS racing helmets, TVS riding suit and many more products.