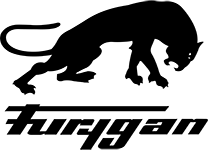 Founded in 1969 by Jacques Segura, the history of Furygan has been forged into passion for excellence and commitment. Fury "Gant" (the French word for gloves), like the first name of the brand, the company firstly focused on the development and manufacturing of gloves for various industries like cycle, ski, and of course motorcycling; one of Mr Jacques's deepest passions. Mr Jacques soon was involved with racers from all over the world, and quickly established his company as a leader in the motorcycling garment industry.

Furygan has an innovative spirit, a passion for leather craftsmanship, as well as any technical inputs that could bring more safety, comfort and style to motorcyclists, and above all, a will to never compromise when it comes to safety. We are bikers, and we have been in the front line for 45-years.'
Furygan has been involved in motorcyclists' safety from the start and it continues the considerable work day after day, for the future. Continuous innovation to improve the efficiency, comfort and performances of its clothes ensures that they are always in line with the expectations and requirements of the modern motorcyclist, but there are times when the brand is way ahead, because it always strives for more.

Furygan's professional athlete roster includes MotoGP riders Johann Zarco and Dareen Binder, The 19 IOM TT champion Michael Dunlop, as well as a number of up and coming Moto2 and Moto3 racers.
6 month warranty against manufacturing defects. Explore the range of riding gear by Furygan India here.