Every new motorcycle rider is faced with several questions –
New rider is the keyword here. Experienced riders are knowledgeable and sensible enough to know importance of motorcycle gear. Let's see if we can clear up confusion or doubts about Motorcycle Riding Gear.
Question: What should I wear while riding a motorcycle?
Answer: Most motorcyclists know the importance of wearing a helmet but nor many are aware about other elements of motorcycle riding gear. Typical riding gear set consists of -
Wikipedia defines Riding gear as - Motorcycle riding gear or kit, is specialized clothing and equipment worn by motorcyclists. It usually serves multiple purpose at once, including crash injury protection, deflecting sun, precipitation or debris, keeping the rider warm, cool or hydrated, increasing visibility, expressing the rider's style or social identity, stowing cargo". This definition nearly sums up what Bike Riding Gear is. If you want to know more, read on -
Now you must be thinking, what is great about jacket, pants and boots? These aren't your everyday items. These jackets, pants and boots are specifically designed for riders who want proper protection in case of a fall. They are made from abrasion resistant textiles / leather and also has armour at key impact areas. The armour(s) reduces the impact during crash / fall. We will talk about them later in this article.
Question: Does motorcycle gear really help?
Answer: Of course. We aren't saying this because we are selling riding gear. Imagine rubbing your skin on cement or tar road at even 50-60 kmph. Would you enjoy it? Would you get hurt? Listen to these real life stories by survivors of motorcycle accidents-
Now do we think that you can afford not to wear riding gear while riding?
Question: How much does motorcycle gear cost?
Answer: Simple answer is not as much as you thought. A good international certification motorcycle helmet costs from Rs.4000 onwards. Good biker gloves start from Rs.1250, riding boots from Rs.7000/- and riding pants from Rs.6000/-. So all together, you can have a complete motorcycle riding gear set from Rs.16-17,000/-.
Of course you can cheat a bit by opting for knee guards instead of Riding Pants and your budget goes down to about Rs.14,000/-.
Is this something you really can't afford? What most of the riders do is buy one piece at a time. Buy helmet today, gloves 2 months after that, jacket couple of months after that so that you have complete riding gear set within 6-8 month period without putting a strain on your pocket.
Now that we have covered the basics, let's look at all the riding gear in detail-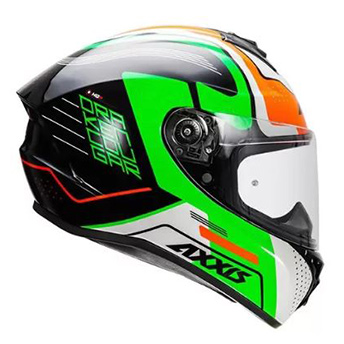 The degree your head is injured is significantly reduced when you are wearing a good quality helmet during a crash. Helmets are designed to cushion and protect the head from the impact.
People give lots of reasons why they don't wear helmets while riding:
Expensive

They feel claustrophobia and suffocation

Restrictive vision

The cause of messy helmet-head hair, loss of hair

Freedom of choice etc. etc.
The reality is that each of these reasons can't bring back someone's life if it is lost in an accident. Small crash or a big one, a helmet will save you some scars, stitches or broken teeth at the very least.
"Messy hair are preferable than broken skull"
The bottom line is helmets are the single most important piece of protective equipment you can have when riding a motorcycle. And if you are wearing a good quality helmet, your ability to see and hear is not restricted.
Helmets, like many other things, once you are habituated to it, will help you go further in your riding career.If you want to know more about helmets, you can read our Detailed Guide about Helmets.
Here are some Helmets for you: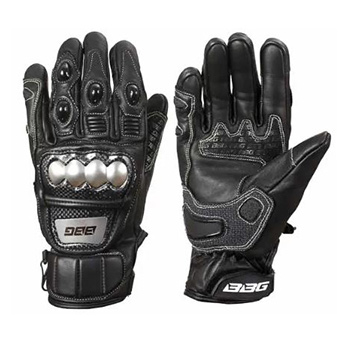 Just look at your hands and see how many small bones they have. Think about all the things that you do every day with those hands. Now, imagine a day without using either one or both.
In almost all accidents, you would try to arrest your fall by your hands. No matter how small the crash is, hands are mostly going to be the first point of contact with the road. So good quality riding gloves becomes an important part of your riding gear.
"Sweaty hands are better than broken fingers"
Leather, Kevlar and carbon fiber are the commonly used materials to create high quality motorcycle gloves.
Fingerless (cut) gloves/woollen gloves are useless for protection. What you need is good quality leather gloves that offers protection.
If you want to know more about riding gloves, you can read our Guide about Riding Gloves.
Here are some Gloves for you :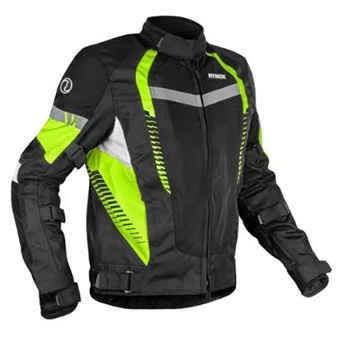 Motorcycle jackets do NOT mean biker style jackets that just look like riding jackets but do not have any protection.
Most riding jackets have armour on the elbow and shoulder areas and foam padding or armour at the back. This armour helps to protect the body from impact by providing cushioning on the areas that are most likely to sustain impact during a crash.
These armour, C.E.Rated 1 or Rated 2 (or other standards) absorb most of the impact. The textile / mesh or leather used in these jackets is thick and abrasion resistant. So even when you slide, the textile won't easily tear off.
Adjusters at elbow, waist etc. would keep the jacket in place so injury is minimized. In typical Indian (hot) weather, mesh jackets provide ample ventilation so you won't drown in sweat and makes for a perfect companion for any kind of rides in the city or highways.
If you want to know more about riding jackets, you can read our Detailed Guide on Riding jackets.
Here are some Jackets for you :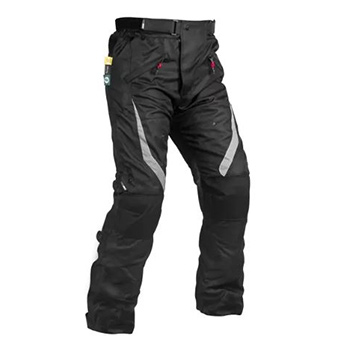 Question: Are jeans good for motorcycle riding?
Answer: Certainly not.
Riding pants have armour at knees and some pants would also have foam padding at hip area. Similar to riding jackets, riding pants are made using abrasion resistant textile / mesh or leather. So even in case of a fall, armour in your pants would take the first impact and in case of small crash, the cloth would not tear off.
You must have had experience of torn knees of your jeans even when you fell down from a bicycle. These pants would protect you much better than those jeans.
Typical riding pants would also have a special surface in seating area to give you more grip, so you won't slide easily on the seat while riding.
Now a days, we have Riding Jeans. They look like any other jeans AND have armour at knees, hips and have Kevlar lining. So you can wear them to college or office and still be protected.
If you want to know more about riding pants, go ahead and read our Guide to Motorcycle Riding Pants.
Here are some Pants for you: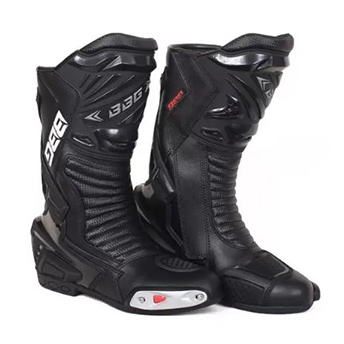 Question: Are motorcycle boots necessary?
Answer: These are the most neglected item from riding gear.
People think that their woodland type / safety shoe type shoes are perfect as riding gear. Wrong
Riding boots will usually have toe, ankle and shin protection. Riding boots are designed to protect you from hot exhaust pipes, the tires, rocks and the vehicle itself as it tries to grind you into the ground.
Replaceable toe sliders on the sports boots save your boots from getting bruised when you lean and dig your knee on the road. Grippy rubber soles help you stay planted on the pegs. A reinforced toe helps you stay in comfort even after a long 14-15 hour ride in a day.
If you want to know more about riding boots, head to Guide about Motorcycle Riding Boots.
Here are some Motorcycle Boots for you:
Now do you think that wearing proper riding gear while bike riding necessary?
If you already own riding gear and want to know proper way of maintaining your riding gear, head to our Guides for Riding Gear Maintenance.
So choose wisely and ride happily.
---
Let's have a look at few of the products we offer:
---
Be the first to learn about our latest trends and get exclusive offers