What is a riding jacket?
Motorcycle jackets do NOT mean biker style jackets that just look like riding jackets but do not have any protection.
Most riding jackets made for motorcyclists have armour on the elbow and shoulder areas and foam padding or armour at the back. This armour helps to protect the body from impact by providing cushioning on the areas that are most likely to sustain impact during a crash.>
These armour, C.E.Rated 1 or Rated 2 (or other standards) absorb most of the impact. The textile / mesh or leather used in these jackets is thick and abrasion resistant. So even when you slide, the textile won't easily tear off.
Adjusters at elbow, waist etc. would keep the jacket in place so injury is minimized. In typical Indian (hot) weather, mesh jackets provide ample ventilation so you won't drown in sweat and makes for a perfect companion for any kind of rides in the city or highways.
What should I look for in a motorcycle jacket? / How to choose motorcycle jacket
Material
Traditionally, motorcycle jackets were made of leather and many riders still prefer the style and performance of leather jackets. Though everyone would love to look cool in a leather jacket, not all can afford to buy one.
In typical Indian hot weather, you would be extremely sweaty wearing leather jackets…even the perforated ones. Many riders today enjoy the flexibility and fit of jackets made from high-density synthetic materials that are both strong and form fitting. Riding jackets are typically made of Mesh/Textile or Leather.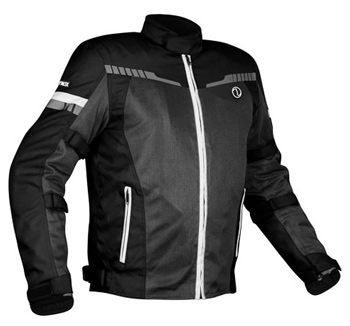 Mesh Riding Jackets are typically a combination of mesh on front / rear with textile chassis holding it together. The textile portion is made from abrasion resistance textile so that it doesn't tear off like paper in case of a crash.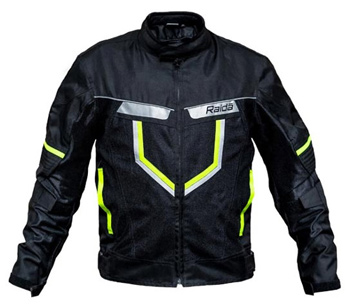 Textile Jackets are made from abrasion resistant textile like Cordura and are better at protecting you from mud / dust being thrown at you while riding. These jackets come equipped with openable zippers which permit ventilation but still are not as cool as mesh riding jackets. Textile jackets are better in abrasion resistance (they won't tear as fast as mesh jacket) and also can be used in light rains without rain liner / rain coat.
Mesh jackets are one of the most suitable jackets for typical Indian weather. They offer excellent ventilation and sufficient protection. Unless worn with rain liner or rain coat jacket, they are completely useless for riding in rains.
Here are some Mesh/Textile Riding Jackets for you: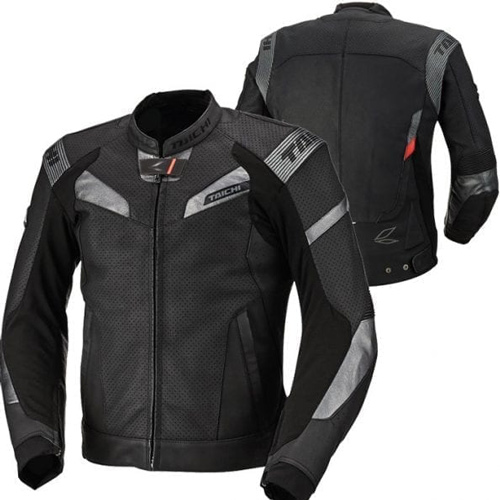 Leather riding jackets are typically the costliest jackets available in the market. For a good reason. Leather has one of the highest abrasion resistance of the three. Chances of leather jacket tearing due to being dragged are very low. You would look hot wearing leather jacket but would also be wet inside due to sweating.
Jacket Fit/Style
Fit/Style of motorcycle riding jackets can be broken down into four major categories: Sport/Street fit and touring fit are most commonly available in India. Cruiser and Adventure Touring/Dual Sport jackets are slowly making an entrance.
The jackets of each of these category are tailored to fit the specific needs of each style of riding. There are both leather and textile options for each style.
Sport/Street fit Riding Jackets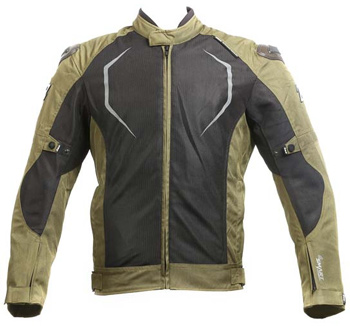 These jackets are tight fitting (similar to slim fit shirts) and would be suitable for sports riding or racing. These jackets are what a typical enthusiast rider in India would buy.
Look at these handpicked sport/street fit riding jackets: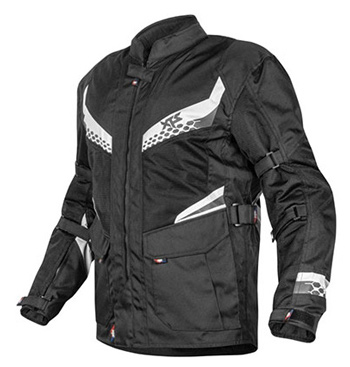 These jackets are typically long (till mid-thigh), would have external pockets and would be bit looser fitting. These are aimed at guys who do lot of touring.
Look at these handpicked touring fit riding jackets:
Riding Jacket Liners
Liners are usually removable components and a rider can choose to wear them or not depending on weather condition.
Rain liners are as the name denotes, for use during rains. Remember to read product description carefully. Water resistant does not necessarily mean waterproof.
Winter liner - These are also called as thermal liners and are useful for riding in cold weather.
Now a days many manufacturers are offering riding jackets without any liners to reduce the selling price of jackets. In case you are buying such a riding jacket, remember that you would need to make additional provision like rain coat jacket or thermals in rains / winters.
Armour
Most motorcycle riding jackets have armour on the elbow and shoulder areas. This armour helps to protect the body from impact by providing cushioning on the areas that are most likely to sustain impact during a crash.
These armour are C.E.Rated 1 or Rated 2. As you can guess, CE level 2 armour is better for protection than level 1. Now a days, many entry level riding jackets are also equipped with Level 2 armour.
One more thing to check while selecting a riding jacket is the back protector. Few years back, foam pad was the norm for back protectors. However, in recent days, companies have stated providing CE Level 1 and in case Level 2 back protectors as standard.
One more option is to buy Level 2 armour separately and use them in your level 1 armoured riding jacket. But that option proves expensive (unless you already have a Level 1 riding jacket.)
Impact protectors (Armour) only work if they remain in place in a crash. Check to see if you can push them around when your jacket is fully fastened. If you can move them, then there is a good chance they will not be where you need them if you crash. It also means you have bought a wrong size.
Here are some Protectors for you: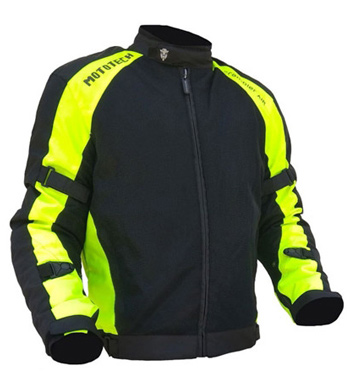 Being visible to others is one of the most critical safety feature of a riding jacket. If others can not see you, they will hit you from behind. So always choose a riding jacket with florescent colours and reflective elements (especially on back).
Now, wearing a florescent coloured jacket is not everyone's cup of tea. So companies like Macna have come up with innovative high tech solution called night eye.
Imagine your riding jacket that looks like this in day light,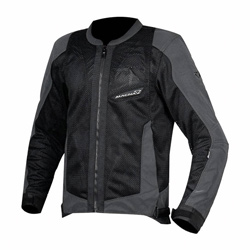 looking like this in night.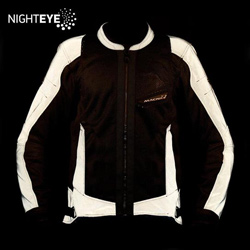 If you want to know more about this technology, have a look at –
Venting
Proper venting in riding jacket can help prevent excess sweating and even heat exhaustion during warm weather riding. So unless you are wearing a mesh jacket, you need to make sure that the riding jacket has ample ventilation. Most of the rides in India turn out to be in hot weather so this is a crucial element while considering which riding jacket to purchase.
Now that you have a general idea of the options available in riding gear, let's look at correct fitting.
No matter which riding jacket you choose, it is important that it fits correctly. A poorly fitting jacket can result in additional, unnecessary injuries if it rides up or moves out of position during a crash. A jacket moving out of position or having a loose fit can affect the ability of the rider to slide during a crash. A loose jacket can get caught on the road surface or on objects on the road, causing the rider to roll awkwardly rather than glide on the road surface. This increases the likelihood of injury to the rider. To further protect the rider, many jackets include zippers and fasteners that attach the jackets to the pants providing even more safety in a crash.
Here is a video explaining how to measure for understanding your correct size
Reading till this line means you are really really interested in knowing about things. Great going. Hope you spread this knowledge among your friends.
If you want to clean and maintain your riding jacket, we have an excellent guide about it. Why not have a look at Riding Jacket Maintenance Guide
So choose wisely and ride happily.
---
Let's have a look at few of the products we offer:
---
Be the first to learn about our latest trends and get exclusive offers