When we talking about motorcycle gloves, the first image that flashes before us is the half finger or fingerless bike gloves you would get at sports shop on the corner. But this is the worst thing you can buy as motorcycle gloves. Let's have a look at what you should look for while buying Motorcycle Gloves.
We will be covering these topics in this guide
What are Riding Gloves
When a biker meets with an accident in which he/she is skidding forward because of the momentum. Anyone's impulse action would be to stop skidding by using our hands. No matter how small the crash is, hands are mostly going to be the first point of contact with the road. Wearing riding gloves can protect the rider's hands from getting cuts or bruises because of an accident.
The Best Riding Gloves would be the ones that provide protection on the outside and comfort on the inside.
Types of motorcycle gloves available in market
As we had mentioned earlier, half finger or fingerless are useless for motorcycle riding. They just make you look like 1980s hero in a B grade film. So I guess you should skip them… unless you are participating in some costume drama.
These gloves as the name suggests, are short and cover just the palm area. They are more suitable for inside the city riding where speed would be less and impact in case of a crash would be low. They are light weight and easy to carry around.
These would be the cheapest among other motorcycle gloves. This does not mean they are just for show. These gloves prove decent protection and usually have good ventilation.
Here are some short cuff riding gloves for your consideration: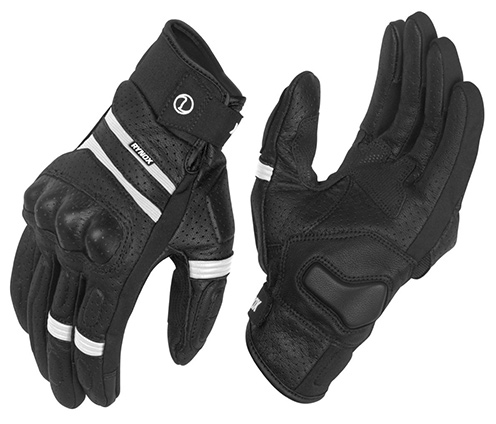 These gloves are for the riders who don't want to go all out to full gauntlet gloves but aren't happy with the protection offered by short gloves.
Semi gauntlet gloves typically are in between short gloves and full gauntlet gloves. Not too bulky for riding inside the city and still offer a decent level of protection. They usually have better fastening system and more features than short gloves.
Here are semi gauntlet gloves that you can choose:
Full Gauntlet riding gloves offer the best protection out of all the three types of riding gloves. They should be used by every serious rider who wishes to step outside city limits. They offer multiple fastening points and are usually full of additional protection / useful features.
Want to get full gauntlet gloves? Look at these:
Gloves variety based on material used
Mesh gloves –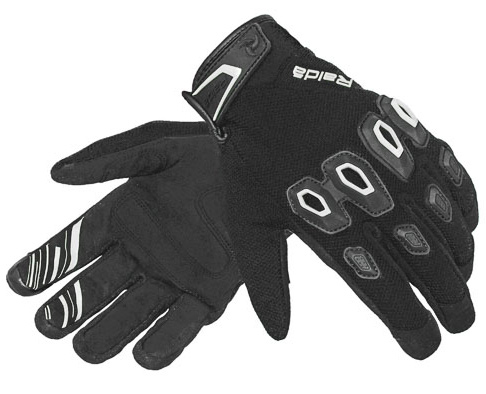 These gloves offer maximum ventilation and minimum protection. Most of these gloves are good only for very slow speed riding or are just for looking good. Not really recommended for any ride outside city limit. We aren't outright objecting to using these gloves simply because of fantastic ventilation offered by them that you can enjoy while riding to/from sabzimandi.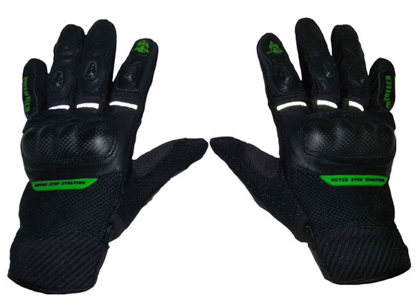 These gloves offer ventilation for our typical hot weather and leather where we need abrasion resistance. These offer best of both worlds, air ventilation and protection. Of course, when it comes to protection, these compromise a bit when compared with full leather gloves.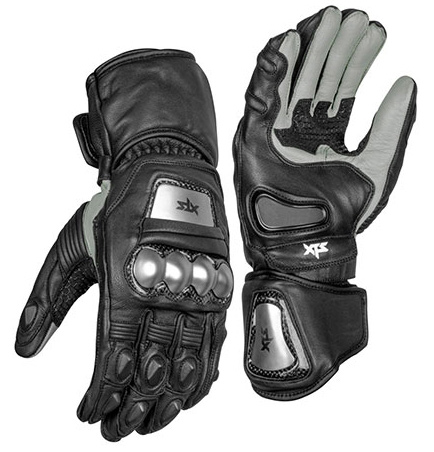 Leather, by its nature is abrasion resistant so in most cases, it won't tear off in case of a crash. A ventilated full leather glove offers best compromise between ventilation and protection.
Types of Protection offered by Riding Gloves
Riding gloves keep your hands protected. Even a small fall can do some big damage to your hands so picking gloves with right kind of protection is very important.
The first protection is material used in construction of the gloves. Leather has natural anti abrasion properties so it is considered to be best. Now a days, many manufacturers are now using exotic material like Carbon fibre, Kevlar, titanium to enhance protection.
Typically riding gloves will have protection at knuckles, padding on fingers, padding at palm area. Some decent gloves also offer finger sliders, pinkie finger protector, padding on side of wrist and back of hand.
How to measure glove size :
Correct fitting of gloves is a must. If you wear loose gloves, you won't get proper feedback from your handlebar and chances of they getting off your hands in case of a crash are very high. If you wear too tight gloves, your fingers/hand would start paining. So measure twice before ordering any gloves.
Check out this short, simple video to know how to measure for gloves.
Some other points you should consider before buying Riding Gloves
Pre-curved fingers: Your fingers will be curved while holding throttle so gloves that have pre-curved fingers will reduce the strain on your fingers.
External Stitching: Some gloves offer external stitching. It means the stitching on the fingers will be visible from outside. This helps you in getting smoother feel for the fingers while wearing gloves.
Fitting: Your fingers should not be tightly pressing against the end of gloves. In case they do, they would start paining.
Visor Wipe: Some gloves offer visor wipe feature. It is a simple plastic wiper on one of the fingers. You can use it during rains to clean helmet visor even while riding. It is simple but quite effective for better visibility.
Touch Screen Compatibility: In many gloves, thumb and index fingers have a special coating that enable you to use your phone even while wearing gloves. As you don't need to remove gloves to use your phone, this reduces the time if you want to answer calls, change music or even reply to messages.
Insulation & Waterproof: Most of the waterproof gloves also have insulation. This makes them suitable for riding in cold, wet weather eg. During Leh ride. But this would make your hands sweaty if you are riding in areas where it is warm even while raining.
So choose wisely and ride happily.
---
Let's have a look at few of the products we offer:
---
Be the first to learn about our latest trends and get exclusive offers