How many times, have we seen riders fully decked in helmet, riding jacket, gloves going full blast while wearing normal jeans and sneakers? May be they have titanium knee caps. Mere mortals like you don't have them.
Bottom half of your body is as important as top half. This is why Riding pants are as important part of motorcycle gear as your gloves or helmet. So let's go ahead and explore more about riding pants.
Quick Navigation
What kind of pants should I wear on a motorcycle?
Riding pants have armour at knees and some riding pants would also have foam padding at hip area. Similar to riding jackets, riding pants are made using abrasion resistant textile / mesh or leather. So even in case of a fall, armour in your pants would take the first impact and in case of small crash, the cloth would not tear off.
Any decent riding pants would also have a special surface in seating area to give you more grip, so you won't slide ahead / back on the seat while riding. These biker pants are also equipped with thermal and rain liners so you can keep riding in all kinds of weather while keeping your family jewels dry and cozy.
When riding pants offer so much benefit, does wearing normal jeans make any sense?
Types of Knee Guards / Knee Protectors
Knee protectors are of two types
Internal protectors
External protectors
As the names describe, internal protectors are to be worn inside your trousers or jeans. These are not visible for others so you don't feel like an alien when going out with non-rider friends. However, these are difficult to adjust or remove.
External protectors are typically bionic protectors. They have hinges for better fit and offer decent protection for the price charged. As they are to be worn outside your pants, they are easy to put on, remove and adjust. Unfortunately they tend to scratch your bike's tank.
---
Here are few best quality knee guard options for you:
---
I wear Knee Guard / Knee protectors so I am protected
Why would you choose to buy riding pants instead of cheaper knee guards? Simply because riding pants are better in nearly every aspect.
Most Knee guards are for using on top of your pants and so chances of them scratching the tank are very high. In case of riding pants, the guards are kept in a special pocket stitched inside the external surface. But in case of knee protectors, you are relying on elastic to hold the protectors in place in case of a crash. Elastic, however good in quality, can't be compared with stress taking ability of protector pockets inside riding pants.
Also Riding pants are made from abrasion resistant textile / leather. So they don't tear easily even when you go sliding on them.
Types of Riding Pants
Like every other piece of clothing, Biker Pants are designed for the purpose you have in mind. Let's have a look at major types of motorcycle riding pants.
Racing Pants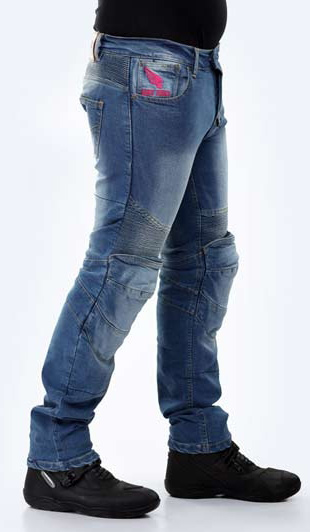 Riding jeans are for those who don't want to compromise on protection even while commuting to college/office. These jeans are typically reinforced with exotic fibres like Kevlar to increase their abrasion resistance. Riding Jeans also have pockets where you can insert knee protectors.
So you get cool looking pant that looks like your ordinary denim but still offers protection and abrasion resistance.
Here are some Riding jeans for you:
---
Conclusion
Also now a days, riding pants aren't much more expensive than decent quality knee guards. (We aren't talking about the cheap knee guards costing Rs.800/-. These cheap knee protectors are useless in any crash). So why risk pair of your favorite jeans along with your kneecaps and various other body parts when you can spend a bit to protect them? Head to Riding Pants to explore options available. Some of the riding pants available are -
So choose wisely and ride happily.
---
Let's have a look at few of the products we offer:
---
Be the first to learn about our latest trends and get exclusive offers