NGK Iridium Spark Plug - CPR8EAIX-9
Quick Overview
Give your bike the best performance with this NGK CPR8EAIX-9 Iridium Spark Plug set. Iridium spark plugs are globally the best performance category of spark plugs having superior technology.
These NGK Iridium spark plugs use very precious Iridium metal at the tip of center electrode of diameter 0.6mm and has a thermo-edge design for central electrode. These features give anti carbon fouling performance, smoothest running, and excellent acceleration with increased mileage and are used and appreciated by most racing bikes and cars all over the world.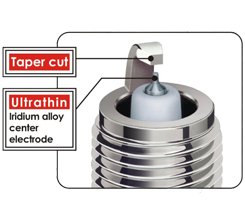 NGK Iridium IX Spark Plug CPR8EAIX-9:
Suitable for following models:
TVS: Jupiter, Zest 110, Star City Plus, Pheonix, XL 100 (All variant), Wego 110
Yamaha: FZ-FI, SZ- RR 2.0, SZ-S, FZ-S, FZ-S FI 150cc (model from Aug'18), FZ 16 (150cc), FZ-FI V3.0
(BS-VI), FZS-FI V3.0 (BS-VI)
Hero: Achiever 150, Xtreme, CBZ Xtreme, Xtreme sport, Hunk, Impulse, Xtreme 200R (model from Oct'18), Xtreme (XT200FI), Enduro (XT200) (model from Oct'18), Xpulse 200cc (May'19)
Honda: Unicorn, Unicorn Dazzler, CB Trigger, CB Unicorn 150, CB Unicorn (160 cc), CB Hornet 160R, X-Blade, SP 125 HET (BS-VI)
Features
Benefits
Precious Iridium material is used as a tip of center electrode of diameter- 0.6 mm
– Longest and smoothest running over many miles.
– Easiest starting and greater ignitability.
– Excellent acceleration with increased mileage.
– Reduce wear rate of electrode than conventional spark plug.
Special thermo edge design for center electrode.
– Good anti fouling performance.
Note:
Compatible with both BS-4 & BS-6 vehicles.
Suitable for BS-6 fuel, Fuel injection system and Oxygen sensor.