SMK Gullwing Tourleadder Gloss Helmet
Quick Overview
SMK Gullwing Tourleadder Gloss Helmet is a flip-up modular helmet for tourers and everyday two-wheeler commuters. This ISI certified helmet provides comfortable fit and a dynamic outer shell design.
SMK Gullwing Tourleadder Gloss Helmet is double homologated P/J as an open face and full-face helmet, ensuring maximum safety in both conditions. A smartly designed ventilation system with vents on the top and chin areas along with air exhausts at the back to offer full comfort even in extreme weather conditions, both on long trips and in everyday commuting.
SMK Gullwing modular helmets offers a complete range of features such as internal retractable sun visor, wind stops, and Pinlock® ready main visor to prevent fogging.
Note: The Inner sun visor Tint (Dark) is now reduced to 50% Tint as compared to previous Dark Smoke 100% Tint.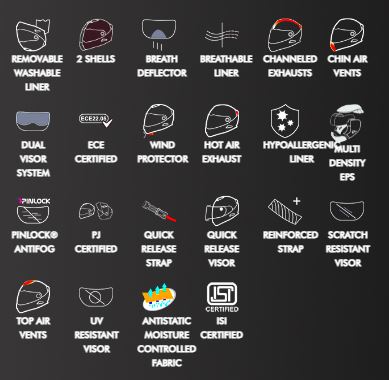 We found other products you might like!